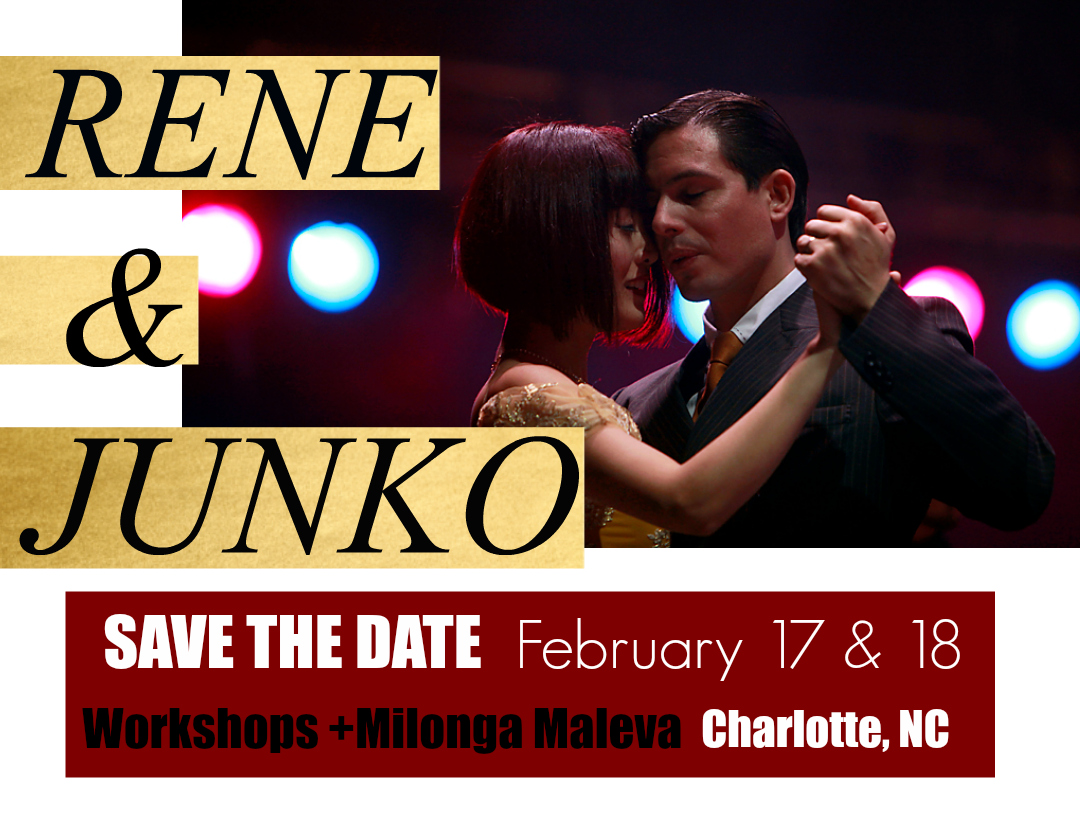 LOCATION

Metropolitan Ballroom

2935 Providence Rd. Suite # 200

Charlotte, NC 28211

SCHEDULE

SATURDAY - FEBRUARY 17


12:00 pm - 3:00 pm


Workshop 1
:
Milonga Lisa and Traspié & creation of musical structures


Workshop 2
:
Pivot, Ocho & Sacada: Infinite sources to create movement
**MILONGA MALEVA** (not included in package)

  9:00 pm

  $10

  THIS IS NOT a BYOB event 

  Wine/Beer Bar on Site

  Snacks Provided

SUNDAY - FEBRUARY 18

    12:00 pm - 3:00 pm



Workshop 3
:
Giros & Planeos: Discovering different possibilities!





Specific women's technique for planeos & mens technique for Giros.


Workshop 4:
Flawless Boleos: Lead and Follow Boleos in any style.
February 17 & 18, 2018

Charlotte, NC

2010 BUENOS AIRES METROPOLITANO

2nd PLACE CHAMPIONS - SOCIAL TANGO

Two of the finest dancers in Buenos Aires will be in Charlotte. Rene and Junko honor traditional tango with the energy of youth and the elegance of the long history of Argentine Tango.

He has been dedicated to dance from an early age.  She moved to Buenos Aires from Japan, to prepare to compete in the Tango championships. She was partnered with Rene.  They fell in love, married and as a couple were named Sub-Campeones of the 2010 Metropolitano competition. 

This couple knows how to improve your dance!

REGISTRATION BY PAYPAL


The pass includes 4 classes for both Saturday & Sunday

$80
per person for all classes or

$25
per person for each class a la carte (pay at the door)
MUST RSVP to Kasia
Private Classes Available at $100/hour on Friday February 16 & Monday February 19.

Contact Kasia at 704-236-6562 to schedule your private class.

REGISTRATION BY CHECK

If you prefer to register by check, please make check payable to Daniel Arredondo and mail to:


6451 Mounting Rock Rd.

Charlotte, NC 28217
Questions: Contact Kasia at Kasiuli@Yahoo.com or call 704-236-6562